The Best Classified Ads WordPress Themes
Bish
Bash
Let's get it done!
The classified ads business model is one that has worked for many people, in a range of different markets, for people who want to buy and sell cars, or sell CD's & Mini-disks or those looking to take their piece of the second-hand market. Many classified ads websites are built and nurtured into thriving communities, and can quickly start to turn a profit with minimal investment and marketing. With the right idea, subject and a bit of passion, you too can have your own online business, based on a great WordPress classified ads theme.
I'm no stranger to working with Classified Ads themes, I recently undertook the task of creating my own classified ads website – which is aimed at helping families buy dogs and puppies from reputable breeders. A site still in its infancy, but growing steadily. I wrestled over the various WordPress themes out there on which to build my thriving new community, and in many ways, this article is born out of my exploration of all those options, I spent hours testing and using the themes you'll find listed below to make the right choice for my project; to build a profitable community driven classified ads website.
[sociallocker]
[/sociallocker]
There are several premium themes in the classified advertising niche, and hopefully this article will save you some time and help you make a decision about which classified ads theme is right for you. Each theme reviewed comes with a star rating, which takes into consideration a number of factors, including:
Ease of set up and configuration
User Interface and front end options
Price tag/ Value for Money
Complex Functionality
Robustness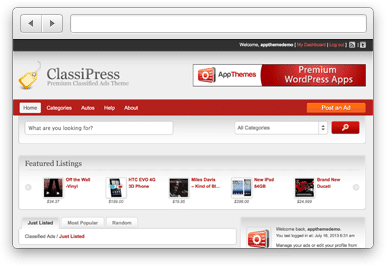 That's it for now, as I review and get to know other classified ads themes I will of course ad them to this list and grow it over time. Have you had experience with any of these or other classified ads themes? Do you agree with my ratings or think I've been overly generous or unfair? Leave a comment below, I like to read them and It may well help other readers make an informed choice on which classified ads theme to buy.
Phew.
You've made it this far.
I am good at managing my schedule, so I can usually get projects booked in without much lead time. Let's get our heads together and get your project done.
Get a Quote
Bish
Bash
Let's get it done!
Based in London, Working Everywhere
I'm a Freelance Web Designer and WordPress developer, I'm based in London but work with client's in the UK and all over the world.
Creative Web Design & WordPress Development Services